Schneider Electric Inverter ATV71HU40N4Z 4KW 380V
☞☞ Click here to get the best quote Schneider ATV71HU40N4Z

Manager: Jessica

Email: sales@mvme.cn (Click)

Skype: jessica01235483 (Click)

WhatsApp : +86-18030235311 (Click)
Our Mission: Make it easier for customers to buy industrial components

MOORE's goal is to become the "Standard" of the industry.
We are a global leader in B-to-B industrial components.
Globally, we enable our customers to buy components by responding quickly and effectively to their needs.

It's easier.
Whatever their business is, our goal is to provide solutions that best suit their spare parts. By me

In our global business, our goal is to become a "Standard" - standard setter in our industry.

Warehouse facilities
MOORE has warehouse facilities in important regions of the world, so thousands of hard-to-find stops
We can deliver all parts.
All our parts have been thoroughly tested and provided with 12-month warranty and special after-sales support. whether
When you need it, we will always provide services to ensure that the process of purchase and purchase is as smooth as possible.

Replacement of spare parts
Buying alternative automation components is not necessarily a costly and time-consuming process. In fact, this process can be
It is environmentally friendly and cost-effective.
MOORE not only shortens the delivery time, but also helps you reduce carbon by making the whole replacement process economical and environmentally friendly footprint, at the same time, our next delivery shortens the downtime for you.
MOORE AUTOMATION LIMITED
https://www.mvme.cn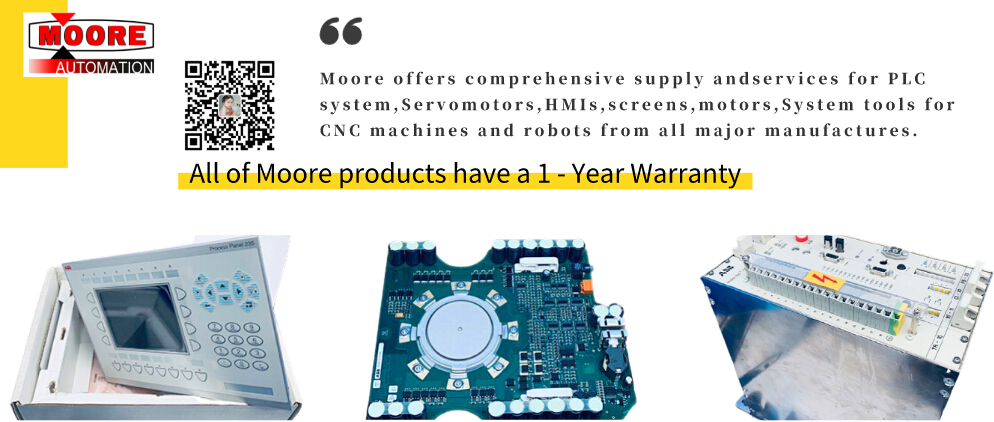 We mainly manage PLC module, DCS module, CPU module, IO module, DO module, AI module, DI module, network communication module.
Ethernet module, motion control module, analog input module, analog output module, digital input module, digital output.
Modules, Redundancy Modules, Power Modules, Relay Output Modules, Relay Input Modules, Processor Modules.
*** Email: sales@mvme.cn (Click) ***
* In stock
* MOQ 1 Pcs
* 100% new factory sealed
* Warranty: 12 months
* All the goods will be tested before shipment
* Payment: T/T
* Shipped within 1-2 days after payment
* Shipment: DHL UPS FedEx, etc (Packed in brand new and original box)
T918-1770-18NKO ABB DC governor dismantled thyristor module
Bussmann 170M6166 Fuse, Fuse, Fuse Block
ABB DCS400 DC Speed Controller DCS401.0230
ABB SDCS-PIN-51 COAT DCS500 DCS600 DCS800
3ADT751010 transducer,ABB DC Speed Controller 2500/1 3000
SDCS-PIN-4 ABB 800 DC speed controller power board
SDCS-CON-4. ABB DCS800 Main Board
,
CPU Board
ABB DCS550 DCS800 Universal panel DCS-CP-P V2.0 Direct
ABB Control Panel DCS800 DCS550
SDCS-CON-2A ABB DCS500 600 Main Board
SDCS-DSL-4 ABB DCS800 Excitation communication board
ABB SDCS-PIN-46-COAT 3BSE004939R1003 DCS800 DC governor drive board
ABB SDCS-FEX-2A. DCS500 600 Excitation module of DC governor
ABB SDCS-FEX-2A Excitation module
ABB SDCS-DSL-4 Communication board
ABB DCS500 DCS600 TSU600 Main Board SDCS-CON-2A(2B)
ABB DCS500 DCS600 DC governor Main Board ABB SDCS-CON-2B
ABB DCS500 DCS600 Power board SDCS-PIN-205B
ABB DCS400 Excitation module FIS-31 3ADT313600R1
ABB DCS600 Communication board SDCS-AMC-DC-2
SDCS-CON-1 ABB DCS500 DC governor Main Board
SDCS-IOB-21COAT ABB DCS500 600 IO Expansion board
SDCS-CON-4 ABB DCS800 DC governor Main Board
(
CPU Board
)
ABB DCS400 Excitation module of DC governor FIS-3A
SDCS-COM-82 ABB DCS800 DC governor communication board
SDCS-MEM-8FE 3ADT200007R0101 ABB DCS800
SDCS-PIN-41 SDCS-PIN-41A ABB DC governor pulse board, trigger board
SDCS-IOE-1 ABB DCS500 600 Expansion IO interface board
SDCS-IOB-1 ABB DCS500IO Interface board
SDCS-CON-2( -2A)( -2B)ABB DCS500 DCS600 Main Board
SDCS-FEX-1 ABB DCS500 600 Excitation board
SDCS-COM-5 ABB DCS500 Communication board
NPBA-12 ABB DP Communication interface module
SDCS-PIN-4 ABB DCS800 DC governor power board, trigger board, power board
---
Schneider ATV71HU40N4Z

Email: sales@mvme.cn (click)
If you have any PLC DCS inquiries, please contact us freely.
It will be a comfortable and happy business cooperation