LAUER PCS900 PCS 900 PG 900.202.6 060695 Operator Panel
Manufacturer: LAUER
Part Item :
PCS900 PCS 900 PG 900.202.6 060695
MODEL

PCS9000

STANDBY MODEL

PRODUCT SIZE

10 cm x 41 cm x 30 cm

PARAM DESCRIPT

Operator Panel

WEIGHT

6 lbs (3.12 kg)

STOCK

Ask Request Quote

CONDITION

New and factory sealed

SHIP FROM:

Ship from China,Xiamen
Manager: Jessica

Email: sales@mvme.cn (Click)

Skype: jessica01235483 (Click)

WhatsApp : +86-18030235311 (Click)
MOORE's large stock is the core of our supply.

Our large stock of industrial products is ready for delivery, which is the core of our supply. It contains more than 400,000 electronic products, such as PLC, HMI, drivers, servo and CNC devices, IPC and PG.

Whether new or out of production, from the smallest module to the complete configuration. We have products that have not been available for many years, the latest technology and all other products in between.

Market insight, technology development and customer demand enable us to buy strategically, so we seldom need to transfer business.

If items happen to be out of stock, we will search our preferred supplier network for you.

We have a wide range of brands and products for various industries, we provide services to tens of thousands of customers around the world.
This means that your production can start and run immediately. Reduce production stagnation or loss of capital gains.
MOORE AUTOMATION LIMITED
https://www.mvme.cn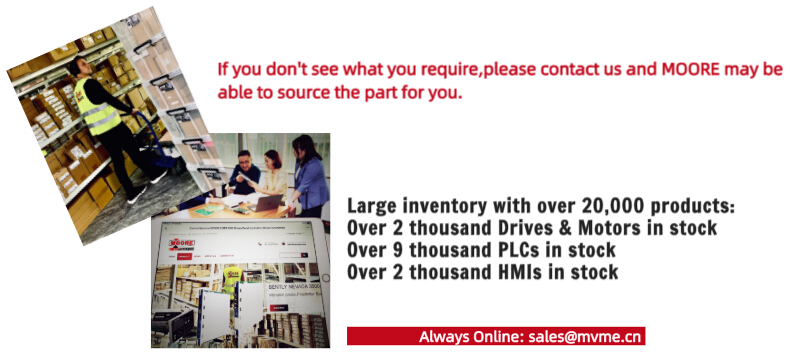 1) MOQ: 1 Piece
2) Availability: In Stock
3) Guaranty: 1 Year Warranty
4) Condition: Brand New and original
5) Shipping: 1-2 days
6) Shipment: TNT DHL FEDEX EMS UPS
/// Email: sales@mvme.cn (Click)
* Siemens automation and P
* Siemens s7-200/300/400 PLC I/O module
* Siemens ET200S/200M I/O Module
* Siemens Mircomaster 420/430/440 Fast speed Drive
* Siemens Simatic OP MP HMI TOUCH PANEL
* Siemens LOGO! 6ED
* Siemens STIOP POWER
* Simatic V7.0 SoftwareWINCC SETP7 STEP7 STEP5
* Siemens CNC 6SN1123 6SN1145 6SN1111 6FC5
SINUMERIK 810D,SINUMERIK 840D,SINUMERIK 840Di MASTERDRIVES MC,MASTERDRIVES VC
* Process automation.7SJ/7UT/7UM/7SD/7RW/6DD/6FC/6SN/1PH/1FK/1FT/6FX/6SY/6AU/6SL/C98043/6SE70 series
* Allen-Bradley 1756 PLC 1747 1746 PLC
* Allen-Bradley 1794 1769 1762 I/O Module
* Allen-Bradley 2711 2711P HMI
* Allen-Bradley 22A 22B 22C Drive
*Omron C200H/C500/CJ1W/CQM1/CS1W series PLC
FUJI BW630EAG
FUJI ELECTRIC AF-300G11 6KG1143020X1B1 AC DRIVE
GE FANUC A06B-0893-B390#3000 AC SPINDLE MOTOR
GE FANUC AC SPINDLE MOTOR A06B-0756-B200#3100
GE FANUC IC600CB536L
GE FANUC IC660BBD024X1 NSFS
GE FANUC IC693CPU351-KT
GEMCO 1989M16R12SEM PROGRAMMABLE LIMIT SWITCH
GENERAL ELECT 6KAF343030E$A1 DRIVE (AS PICTURED)
GENERAL ELECTRIC 209A1045-404-MF AK2A-25-1 600A 600V (AS PICTURED) REMAN
GENERAL ELECTRIC CR305G0
GENERAL ELECTRIC CR306G004
GENERAL ELECTRIC CR309F000LAA * NEW NO BOX *
GENERAL ELECTRIC DS200LPPAG1AAA
GENERAL ELECTRIC DS3800HCMB1C1C W/ DS3800DCMB1D1B GENERATOR REGULATOR
GENERAL ELECTRIC DS3800HFXB1R1H EXPANDER MODULE
GENERAL ELECTRIC DS3800HPCA1F1E CIRCUIT BOARD
GENERAL ELECTRIC DS3800HRMD1C1B MICROPROCESSOR BOARD
GENERAL ELECTRIC DS3800HSHB1F1C PC CIRCUIT BOARD
GENERAL ELECTRIC DS3800HXRC1E1C W/DS3800DXRC1D1A PC BOARD RCVR.
GENERAL ELECTRIC DS3800HXRC1E1C W/DS3800DXRC1D1B PC BOARD
GENERAL ELECTRIC DS3800NCCB1H1F PC BOARD
GENERAL ELECTRIC DS3800NCID1B1A CURRENT ISOLATOR CARD
GENERAL ELECTRIC DS3800NDAC1E1F BOARD ANALOG OUTPUT
GENERAL ELECTRIC DS3800NFCF1J1E FIRING CIRCUIT CARD
GENERAL ELECTRIC DS3800NMEA1G1E MOTOR EXCITER CONTROLLER PC BOARD
GENERAL ELECTRIC IC3600KRSS1A RELAY CONTROL BOARD
GENERAL ELECTRIC IC693CPU350-EK NSFS
GENERAL ELECTRIC SVI2-21123121
GIDDINGS & LEWIS M.1016.9333R0
GRACO 244910 244535 * NEW NO BOX *
GRACO TR03396
GUSHER PUMPS MSC4-7-2.2KW W/ 05E222W223G1 2.2KW 2850 RPM
HERCULINE 2001-200-090-126-200-20-100000-1-0-00 ACTUATOR
HOMATIC 2-083-01-5004
HONEYWELL 09437703 REV. A
HONEYWELL CC-PAIH01 51405038-175 * NEW NO BOX *
HONEYWELL DR45AT-1100-00-001-0-000P00-0
HONEYWELL DR45AT-1100-40-001-0-000000-0
HONEYWELL DR45AT-1111-40-101-0-000P0E-0
---
LAUER PCS900 PCS 900 PG 900.202.6 060695

Email: sales@mvme.cn (click)