WEKA 23614-K-20070219 Tank Magnetic Level Display Length: 1490mm
☞☞ Click here to get the best quote WEKA 23614-K-20070219
Manager: Jessica

Email: sales@mvme.cn (Click)

Skype: jessica01235483 (Click)

WhatsApp : +86-18030235311 (Click)
1.Allen-Bradley 1756/1769/1771/1785 Series
2.ABB 800xA/Bailey INFI90/DSQC Series
3.Bently Nevada 3500/3300 Monitoring System
4.Schneider Series Quantum 140 series
5.General Electric IC693/IC697/IC698/IS200/DS200 Series
6.SIEMENS MOORE/S5 Series
7.Westinghouse: OVATION/WDPF/MAX1000 system spare parts
8.Invensys Triconex: Redundant fault-tolerant control system, Most modern fault-tolerant controller based on Triple Modular Redundancy (TMR) architecture.
9.Honeywell TDC2000/TDC3000/Experion HS Series
10.YOKOGAWA CS3000 System
MOORE has been working in the field of industrial automation components since 2009.
We mainly supply heavy industry all over the world with automation spare parts that are no longer available from manufacturers.
We have 992,000 units in stock including PLCs, Operator Panels, Servo Drives and Servo Motors, Excitation Boards. Other electrical equipment parts
We stock parts from over 320 different manufacturers

These include
Control Systems (DCS, PLC, CNC)
Panel Controllers
HMI and Display Panels
Drives
Servo Motors
Encoders and Resolvers
Power Supplies

Our clients range from the largest multinationals to small production companies.
If you need any parts please contact us to speak with one of our knowledgeable SALES representatives!
MOORE AUTOMATION LIMITED
https://www.mvme.cn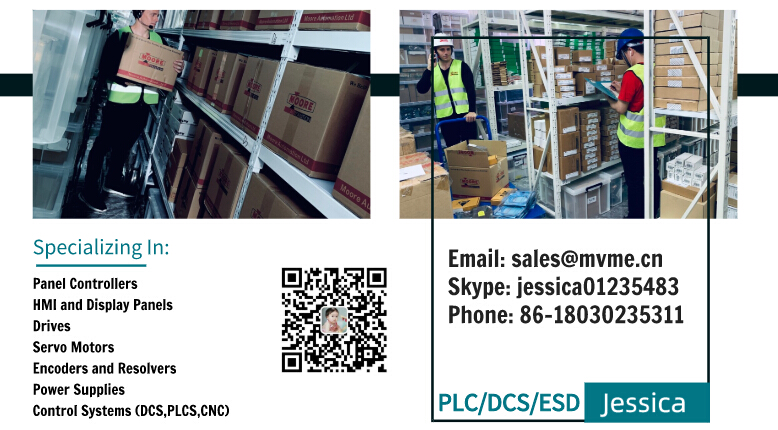 What we can do for you?
All items are NEW.
Any inquiries will be replied within 1 hour.
We check them more than three times before we send out the goods!
Shipping:
Item within 1-2 days after the payment is cleared.
Item ship By E-packing/FedEx/EMS/TNT/DHL/UPS
All the packing ship with tracking number.
Warranty:
One year warranty
Payment:
We Accept T/T.
Other payment please send message.
*** Email: sales@mvme.cn (Click) ***
REXROTH CSB01.1C-ET-ENS-NNN-NN-S-NN-FW
REXROTH CSH01.1C-ET-EN2-NNN-NNN-S2-S-NN-FW
SCHUNK SRU+35-W-180-3
SCHUNK SRU+35-W-180
SCHNEIDER ELECTRIC LEXIUM ILE ILE2K661PC1A1
SEW EURODRIVE FH67B DRE90L4BE2/TH
PERMA-DRIVE PMD 230-BL12/4Q/2
OCTACOM SM 100-40-050-P1-45-R1-B0
REXROTH 4WEH 10 D46/6EG24N9ETK4/B10
GRUNDFOS MTR5-24/10 A-W-A-HQQV
SIEMENS 8TK3005-1AA00/EE
INDRAMAT MDD090B-N-020-N2M-110PB0
REXROTH INDRAMAT MKD041B-144-KP1-KN
REXROTH MSK061C-0300-NN-M1-UG0-NNNN
DANFOSS MCD5-595C-T5-G4X-00-CV2
VERSAND NACH75217
ATN LABEL PRINT APPLICATOR 571A/595A2
HEIDENHAIN EXE 934
FANUC SERVOMOTOR AO6B-0502-B751
INDRAMAT MDD112B-N-020-N2L-130PAO
INDRAMAT SERVOMOTOR MDD112B-N-020-N2L-130GAO
SAUER-DANFOSS HYDRAULIC MOTOR OMV 315 151B3100
SIEMENS ALLWEILER 1LA5113-2AA91
INDRAMAT MDD 115A-N-030-N2L-180GB1
PHOENIX CONTACT IBS IP 500 ELR WP-6A DI4/4 2722603
WATLOW PC30-F25B-0000
INDRAMAT GLEICHSTROMSERVOMOTOR MDC 8.01B/MM-1W/420.S
REXROTH SERVOMOTOR MKD041B-144-KG1-KW+CCK 20-145
CONTROL TECHNIQUES UNIDRIVE UNI2402
ALLWEILER SCHRAUBENSPINDELPUMPE SPF/M40R46-W16
GRUNDFOS CRN5-15E-FGJ-G-E-HQQE
REXROTH A2FE56/61W-ZVL029 R902235161
MORGAN-REKOFA F 6300
REXROTH A10 VS0 28 DRG / 31R-VPA12N00
GRUNDFOS CRT16-5-E-FGJ-A-E-AUUE
REXROTH INDRAMAT MHD093C-058-PG0-BA
BAUMÜLLER BUS624-45/67-54-M-001
DEMAG KBA 71 A2 + KBL 71 A8 + AF05 + FG06
REXROTH A10 VS028 DFR1/31R-VPA 12N00
---
WEKA 23614-K-20070219

Email: sales@mvme.cn (click)