TRICONEX 9853-610 ANALOG INPUT MODULE
☞☞ Click here to get the best quote TRICONEX 9853-610
MODEL

9853-610

STOCK

Ask Request Quote

CONDITION

New and factory sealed
Manager: Jessica

Email:
sales@mvme.cn
(Click)
Skype: jessica01235483 (Click)
Phone / WhatsApp : +86-18030235311 (Click)
Committed to providing customers with integrated industrial spare parts supply chain solutions through supply chain management.
MOORE is more than just an industrial electrical trade. As industry leaders, we are reliable partners for industrial customers and provide individualized orders for spare parts.
We have over 100,000 kinds of industrial stock spare parts waiting for you, and another 400,000 can be ordered in a very short time.
We also have a large warehouse of industrial products overseas to ensure the supply of products within 24 hours. In addition, you will only receive high quality industrial automation parts in cooperation with us
MOORE AUTOMATION LIMITED
https://www.mvme.cn
Condition: Brand new
Warranty: 1 Year
Payment: T/T
Delivery: 1-2 days
Warranty: up to 12 months
Shipping: fast delivery is available
New + original + in stock + one year warranty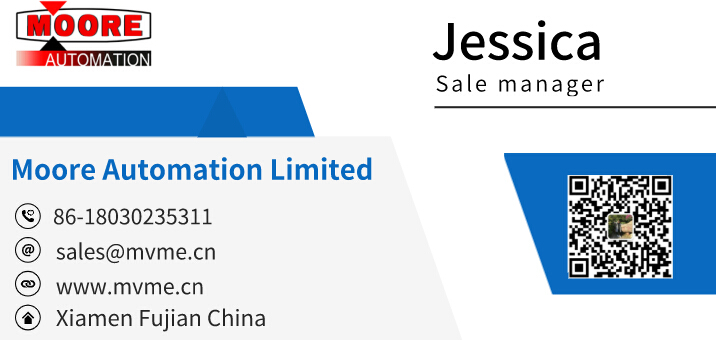 1.Allen-Bradley 1756/1769/1771/1785 Series
2.ABB 800xA/Bailey INFI90/DSQC Series
3.Bently Nevada 3500/3300 Monitoring System
4.Schneider Series Quantum 140 series
5.General Electric IC693/IC697/IC698/IS200/DS200 Series
6.SIEMENS MOORE/S5 Series
7.Westinghouse: OVATION/WDPF/MAX1000 system spare parts
8.Invensys Triconex: Triple Modular Redundancy (TMR) architecture.
9.Honeywell TDC2000/TDC3000/Experion HS Series
10.YOKOGAWA CS3000 System
TRICONEX 9853-610

Email:
s
ales@mvme.cn (click)
| | |
| --- | --- |
| ICS TRIPLEX | T3480 |
| ICS TRIPLEX | T3481 |
| ICS TRIPLEX | T8431 |
| ICS TRIPLEX | T8403 |
| ICS TRIPLEX | T3420A |
| ICS TRIPLEX | T8311 |
| ICS TRIPLEX | T9832 |
| ICS TRIPLEX | T9432 |
| ICS TRIPLEX | T8151 |
| ICS TRIPLEX | T8423 |
| ICS TRIPLEX | T8461C |
| ICS TRIPLEX | T8311C |
| ICS TRIPLEX | T8151C |
| ICS TRIPLEX | T3419 |
| TRICONEX | 9674-810 |
| TRICONEX | 9853-610 |
| TRICONEX | EMPII 3006 |
| TRICONEX | 4000094-310 |
| TRICONEX | 4000094-320 |
| TRICONEX | 4000093-320 |
| TRICONEX | 4000093-310 |
| TRICONEX | 4000098-510 |
| TRICONEX | 9563-810 |
| TRICONEX | 4211 |
| TRICONEX | 9662-610 |
| TRICONEX | 9753-110 |
| TRICONEX | 4119A |
| TRICONEX | 3501E |
| BENTLY NEVADA | 3500/44M |
| BENTLY NEVADA | 3500/45 |
| BENTLY NEVADA | 3500/50 |
| BENTLY NEVADA | 3500/60 |
| BENTLY NEVADA | 3500/64M |
| BENTLY NEVADA | 3500/65 |
| BENTLY NEVADA | 3500/72M |
| BENTLY NEVADA | 3500/94 |
| BENTLY NEVADA | 330103-00-06-10-02-00 |
| BENTLY NEVADA | 127610-01 3500/15 |
| BENTLY NEVADA | 125736-01 |
---
Jessica | +86-18030235311 | sales@mvme.cn