SMC CY1HT32-100B High Precision Magnetic Rodless Cylinder Air Slide
☞☞ Click here to get the best quote SMC CY1HT32-100B
Manager: Jessica

Email: sales@mvme.cn (Click)

Skype: jessica01235483 (Click)

WhatsApp : +86-18030235311 (Click)
10-year Complete Solution for Industrial Automation and Electrical Materials

Provide customers in the field of electrical trade with a wide range of product selection, rapid delivery and further services.

Always provide the best solution in automation and industrial spare parts

Beyond Customer Expectations to Achieve Excellent Business Achievements

Provide efficient solutions for automated spare parts, apply new technologies and develop excellent new products, which will bring tangible benefits to customers and add value to stakeholders.

We always focus on top brand products, innovation of top industrial partners and delivery of new components in the field of industrial automation.
MOORE AUTOMATION LIMITED
https://www.mvme.cn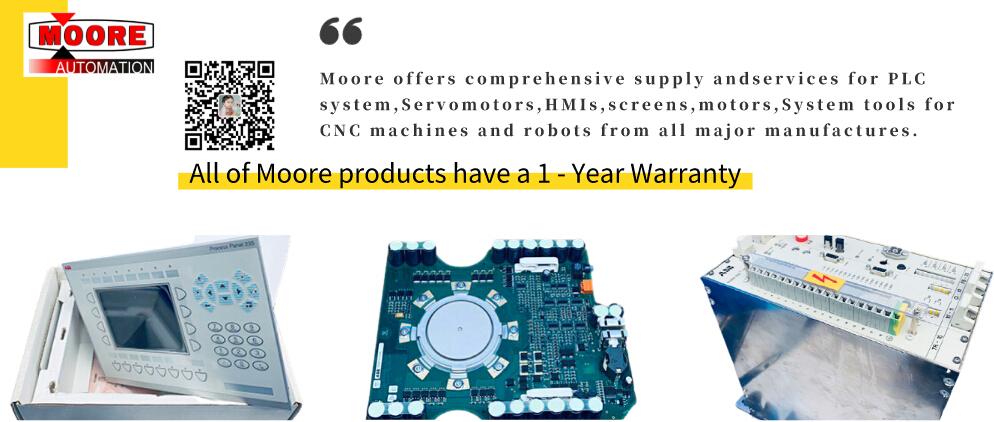 PLC : Allen Bradley, GE FANUC , Schneider
DCS : ABB , Siemens MOORE , Foxboro , Westinghouse , YOKOGAWA
ESD : Triconex , HIMA , Bently Nevada , ICS Triplex
Excitation cards : ABB , GE Marke
*** Email: sales@mvme.cn (Click) ***
* In stock
* MOQ 1 Pcs
* 100% new factory sealed
* Warranty: 12 months
* All the goods will be tested before shipment
* Payment: T/T
* Shipped within 1-2 days after payment
* Shipment: DHL UPS FedEx, etc (Packed in brand new and original box)
Zhiguang High voltage inverter Main control board main board CPU plate HVFCPU34
Yaskawa Frequency converter CIMR-G5A4015 15KW-400V 616G5 Frequency converter
INVT High voltage inverter touch screen keyboard panel TPC1063E
Lenze Frequency converter EVF8203-E
Lenze Frequency converter EVF8217-E 7.5KW
Siemens Frequency converter /6SE6420-2UC17-5AA1/0.75KW/ single-phase 220V
ABB Soft start PST/PSTB main board Drive plate 1SFB536071G1001
Hekang High voltage inverter Signal board 502.SY0003.06、080907057
Xinshida High voltage inverter Control panel PROD0904FV3 AS.H31/A
Hekang High voltage inverter rectification plate (A03) 602-AD0001-01
ABB Frequency converter ACS880 Absolute value pulse encoder interface module OY FEN-11
Hekang High voltage inverter Master controller Optical fiber board 502.SY0102.01
ABB ACS510-01-195A-4 110KW
Zhiguang High voltage inverter Power unit Drive plate Control panel HVFDRV35B
AB Frequency converter PF700 series Trigger board Drive plate 193209-A03和193209-A08
Fuji G9 15kw Frequency converter FRN15G9S-4JE/4CE
G120 6SL3224-0BE23-0UA0 3.0kw
AB Frequency converter PF700 Power supply board 319433-A02
ABB Frequency converter ACS800-07 rectification module Control panel DSSB-01C DSSB-01
Danfoss Frequency converter VLT5000 Drive plate Power supply board 176F1116 175L3260 18107B
Reynolds Soft start JJR1000 JJR2000 Main control board Control panel CPU plate 160 132 115KW
ABB Frequency converter ACS800 Interface board Expansion board AGBB-01C 68242835 B 1/4
Danfoss FC-302P5K5T5E20H2XGCXXXSXXXXAXBKCXXXX
2945007302 Delta Frequency converter Drive plate main board VFD-F
Hekang High voltage inverter Main control board Power supply board Current configuration board 502.SY0001.03
Zhiguang High voltage inverter main controller Communication board Interface board Master controller HVFOUTP31
Siemens Frequency converter G120 Power supply board Capacitor filter board A5E00496050/A5E00496081
Fuji Frequency converter FRN160F1S-4C 160KW
OTS main board 13RU47349
AB Frequency converter PN-342279
A5E00412608Siemens Frequency converter Rectifier board trigger board 132/160/200/250KW Charging board
AB Frequency converter PN-34227
Vacon Drive plate 526P PC00525H
Frequency converter Haili electrolytic capacitor Hicon 400V 10000UF
AB 314066-A05 Inverter Power Board
Schneider Frequency converter 61 series 250KW Power supply board PN072128P4
ABB Frequency converter /dscb-01c
ABB ACS800 Rectifier reactor DCHO-7D-280 3INP280/0.120 120UH 280
Vacon Drive plate 530I VACON PC00528D
---
SMC CY1HT32-100B

Email:
s
ales@mvme.cn (click)