SICK C4000 C46E-0603CT400 Transmitter
☞☞ Click here to get the best quote SICK C46E-0603CT400
Manager: Jessica

Email: sales@mvme.cn (Click)

Skype: jessica01235483 (Click)

WhatsApp : +86-18030235311 (Click)
MOORE has been working in the field of industrial automation components since 2009.
We mainly supply heavy industry all over the world with automation spare parts that are no longer available from manufacturers.
We have 992,000 units in stock including PLCs, Operator Panels, Servo Drives and Servo Motors, Excitation Boards. Other electrical equipment parts
We stock parts from over 320 different manufacturers

These include
Control Systems (DCS, PLC, CNC)
Panel Controllers
HMI and Display Panels
Drives
Servo Motors
Encoders and Resolvers
Power Supplies

Our clients range from the largest multinationals to small production companies.
If you need any parts please contact us to speak with one of our knowledgeable SALES representatives!
MOORE AUTOMATION LIMITED
https://www.mvme.cn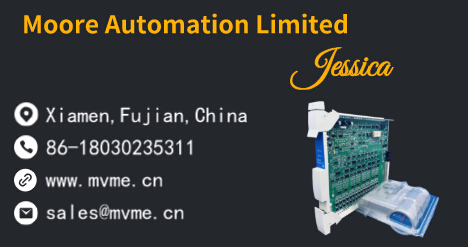 Shipping:
Item within 1-2 days after the payment is cleared.
Item ship By E-packing/FedEx/EMS/TNT/DHL/UPS
All the packing ship with tracking number.
Returns:
30 days policy is accepted
When you return the Item ,please make sure the item is un-opened
Warranty:
One year warranty
*** Email: sales@mvme.cn (Click) ***
We mainly manage PLC module, DCS module, CPU module, IO module, DO module, AI module, DI module, network communication module.
Ethernet module, motion control module, analog input module, analog output module, digital input module, digital output.
Modules, Redundancy Modules, Power Modules, Relay Output Modules, Relay Input Modules, Processor Modules.
Meiden High voltage inverter Power unit Drive plate Control panel Power supply board N62P30580 1/5E
Danfoss Frequency converter Drive plate Power Supply 130B6062 2/2 DT9
ABB Frequency converter Axial flow fan ZIEHL-ABEGG RH56E-4DK.6N.1R 230/400V 2.5KW
TD2100-4T0075S Emerson TD2100
ABB Fan Frequency converter ALCL Filter capacitor MP9-20919J 3*54UF 690VAC/1100VDC
ABB Frequency converter ACS880 Power supply board Drive plate ZINT-592 3AUA000103603
Xinshida High voltage inverter Power supply board PROD0904IV1 AS.H33/A
ENZELenze Frequency converter EVF8222-E-V020
Danfoss Frequency converter FC302 Power supply board Drive plate Trigger board 130B6856
Frequency converter AMP /220KW/200KW/AMP1000-4T2200P
Lipp High voltage inverter Power unit LP080
Sylvia Jefferson Frequency converter main board CPU plate Control panel RV33-4NV-1
ABB medium voltage Frequency converter ACS800 IGBT module AGDR-71C FS450R17KE3
Schneider Frequency converter ATV610 11KW 380V ATV610D11N4A
Delta Frequency converter VFD-F series 75KW VFD750F43A
Zhiguang High voltage inverter Main control board Communication board Interface board HVFSIG13B
ABB Frequency converter ACS880 Extended security features module FSO-11
Hekang High voltage inverter master control Power supply board B090604035 502.SY0004
Honeywell High voltage inverter unit Drive plate Power supply board Trigger board 2010000018
AB700 Frequency converter RS485/MODBUS Communication board /20-COMM-S 20-COMM-D
Inovance High voltage inverter touch screen monitor control panel IT5070E
Zhiguang High voltage inverter Main control board main board CPU plate HVFCPU34
Yaskawa Frequency converter CIMR-G5A4015 15KW-400V 616G5 Frequency converter
INVT High voltage inverter touch screen keyboard panel TPC1063E
Lenze Frequency converter EVF8203-E
Lenze Frequency converter EVF8217-E 7.5KW
Siemens Frequency converter /6SE6420-2UC17-5AA1/0.75KW/ single-phase 220V
ABB Soft start PST/PSTB main board Drive plate 1SFB536071G1001
Hekang High voltage inverter Signal board 502.SY0003.06、080907057
Xinshida High voltage inverter Control panel PROD0904FV3 AS.H31/A
Hekang High voltage inverter rectification plate (A03) 602-AD0001-01
ABB Frequency converter ACS880 Absolute value pulse encoder interface module OY FEN-11
Hekang High voltage inverter Master controller Optical fiber board 502.SY0102.01
ABB ACS510-01-195A-4 110KW
Zhiguang High voltage inverter Power unit Drive plate Control panel HVFDRV35B
AB Frequency converter PF700 series Trigger board Drive plate 193209-A03和193209-A08
Fuji G9 15kw Frequency converter FRN15G9S-4JE/4CE
G120 6SL3224-0BE23-0UA0 3.0kw
AB Frequency converter PF700 Power supply board 319433-A02
ABB Frequency converter ACS800-07 rectification module Control panel DSSB-01C DSSB-01
---
SICK C46E-0603CT400

Email:
s
ales@mvme.cn (click)