SEW-EURODRIVE Gear Motor WF30 DT71D4/MM03/BW1/KPF6
Manufacturer: SEW
Part Item : WF30 DT71D4/MM03/BW1/KPF6
Manager: Jessica

Email: sales@mvme.cn (Click)

Skype: jessica01235483 (Click)

WhatsApp : +86-18030235311 (Click)
Every day in the 65 countries where we operate, we do everything in our power to be more than just an electrical material distributor. We strive to create and sustain a relationship in which each customer is our partner.
With the backing of our multi-channel distribution network and our powerful logistics, we are able to optimize the supply chain, offer competitive prices and bring innovative and tailored responses to the table. Because each customer and project has its own specific features, we adapt our solutions on a case-by-case basis, using our full array of differentiating services.

Integrated sourcing
To meet the special needs of a number of manufacturing customers, we deploy integrated solutions spanning supply, procurement and storage management. We can take the place of their logistics department or even their entire supply chain, guaranteeing that both quality and performance targets will be met, and reducing TCO (Total Cost of Ownership).

Tailored services
Our specialists assist construction and industry customers all over the world with their projects, often going above and beyond the mere supply of products and solutions.
MOORE AUTOMATION LIMITED
https://www.mvme.cn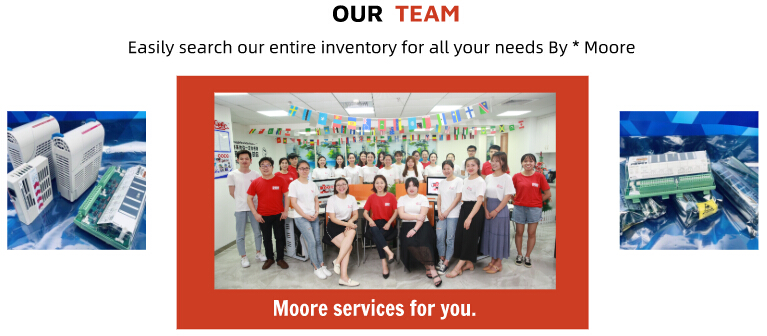 What we can do for you?
All items are NEW surplus.
Any inquiries will be replied within 1 hour.
We check them more than three times before we send out the goods!
Payment method?
We accept T/T Bank transfer.
Lead time?
1-3 work days delivery time after confirmed Payment
/// Email: sales@mvme.cn (Click)
1) ControlLogix 1756 series controller
2) CompactLogix 1769 series controller
3) SLC 500 1747 1746 Series Controller
4) PLC-5 1771 1785 series controller
DCS modules:
1) AC800M series controller I/O module
2) AC800F series controller module
3) AC31 series controller module
4) 800xA series modules
5) Bailey INFI 90 module
6) DSQC robot module spare parts
7) Advant OCS system spare parts
PLC 3500 System Card,IC693,IC695,IC697,IC698 series
Siemens (Siemens):
1) Siemens MOORE
2) Siemens S5
3) Siemens S7 200series,300series,400series,so on.
Rexroth Indramat:I/O module, PLC controller, drive module
Schneider Soft start Drive plate ATS BBV14435 A02
Schneider Frequency converter ATV610 Drive plate Power supply board NHA50381_00 NHA50389-02
Schneider Frequency converter ATV610-630-930 55-75-90kw Drive plate Power Supply NHA50401-00
Siemens Frequency converter capacitance board A5E01206076
Siemens Frequency converter capacitance board A5E35156540
Schneider Soft start 45KW Drive plate Trigger board Power supply board BBV14423-A01 BBV14429-A0
2945007302 Delta Inverter drive board 、 main board VFD-F
Siemens Frequency converter G120 Power supply board A5E00755411
INVT High voltage inverter power unit Power Supply Drive plate Trigger board HU60A-B 3515.B07
A5E00145212Siemens Frequency converter S120 series 90kw 110kw Drive plate Trigger board main board
130B6038 DT/05Danfoss Frequency converter power Power supply board
Siemens TD400C monitor 6AV6 640-0AA00-0AX0
Vacon (VACON) Inverter fan Drive transformer PP10057 FR10
AB700 series Power Supply Drive plate 316279-A03
INVT High voltage inverter power unit communication main board control Drive plate HU60A-A 3515A V05
A5E00173192Siemens Frequency converter M440-430 rectification SCR trigger board Starting board charging board
Schneider Frequency converter ATV71 main board 15KW 16252990112A03
ABB Multi drive inverter ACS800 Rectifier unit transformer RT500-30605 0-230V 500VA
Schneider Soft start ATS22 Power supply board BBV14407_A01
Zhiguang High voltage inverter control Communication board Interface board master controller configuration HVFOUTP31
Lipp High voltage inverter main board Drive plate LP-00-11A-C
Danfoss Frequency converter power Power Supply board 130B6024 DT5
AB Frequency converter 160KW 20DC300A0ENNBNANE
European Frequency converter 15/18.5KW EV500-0150C/0185P-T4
Schneider Soft start Drive plate BBV14423-A02 BBV14424-A02
Danfoss VLT5000 series Inverter drive board 175Z1213 DT15R0
ABB Frequency converter ACS800 reactor E202612 H:ki F-1 ACHO5720 64409689
EP-4640A-C2Fuji Frequency converter 6MBI450UE-120-04 power Drive plate
Delta Frequency converter VFD-B series VFD110B43A 380v 11kw
Danfoss VLT5000 Frequency converter Power Supply Drive plate 175Z1213 DT16
Lipp high pressure Inverter drive board main board LP-00-41A-E
Lipp High voltage inverter Interface board Communication board LP-00-52B-B
Danfoss Frequency converter FC-302PK37T5E20H1XG 0.37KW
European DC governor 591C/4500/5/3/0/1/0/00/000
AB Frequency converter PF400 main board CPU board Control panel 2945401704SK-U1-MCBP-A1
AB Frequency converter parts 74100-071-5
AB Frequency converter PF700S 327650-A03 CPU board / main board 315KW/600KW
Vacon Frequency converter Fan R2E280AE5205
AB Frequency converter 700 series main board 314891-A01 179790-A01 20-DA1-A0
---
SEW WF30 DT71D4/MM03/BW1/KPF6

Email: sales@mvme.cn (click)