Panasonic servo driver MSD011A1XX
Manufacturer: Panasonic
Part Item : MSD011A1XX
---
---
Company
Moore provides economical and efficient spare automatic control parts for industrial automation market to meet your operation

Budget. We provide a large stock of spare parts.

Improving the Availability of Process Automation Parts

We provide control systems to provide comprehensive control components for all your automation safety and process requirements.
Have the best order cycle support to achieve investment protection and maximum return on previous asset investments

Industrial Automation Control Systems and Components Provide Reliable Solutions for Your Business

If you can't find the products you need, please contact us. We will help you find the right self for your system Motorized parts.
MOORE AUTOMATION LIMITED
https://www.mvme.cn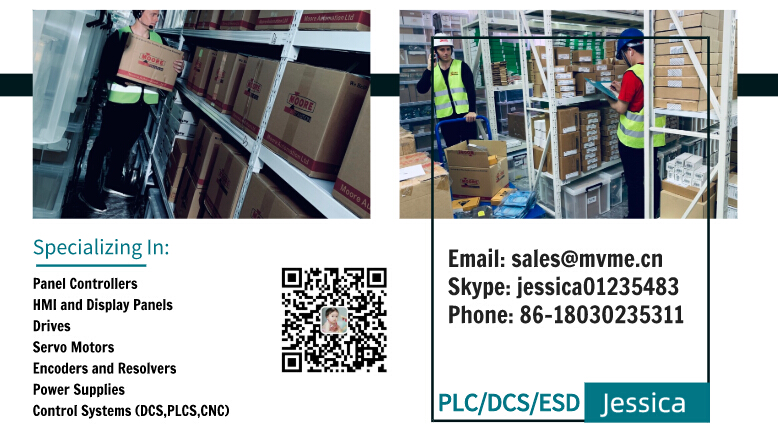 Product Categories
SLC500: 1747/1746 series
MicroLogix: 1761/1763/1762/1766/1764 series
CompactLogix: 1769/1768 series
Logix5000: 1756/1789/1794/1760/1788 series
PLC-5: 1771/1785 series
PROSOFT module
Molex module
2711P Touch screen
Rockwell ICS TRIPLEX
General Electric:
IC693/IC695/IC697/IC698/IC200/IC660/IC670 series
IS200/IS215/DS200/DS380 series
Shneider Modicon Quantum PLC
TRICONEX Tricone (ESD)
SIEMENS:S-200/S-300/S-400/S-1500/S5/S-1200/SIMADYN D/Siemens Moore
ABB:
AC800M series
AC800F series
AC31 series controller module
800xA S800 series modules
Bailey INFI 90 module
DSQC robot spare parts
Advant OCS system spare parts
ABB PLC-AC500 series
Emerson DeltaV/OVATION
YOKOGAWA card
FOXBORO DCS module
BACHMANN
Honeywell
BENTLY NEVADA TSI Monitoring module
Vibro Meter VM600
/// Email: sales@mvme.cn (Click)
Details
What we can do for you?
All items are NEW surplus.
Any inquiries will be replied within 1 hour.
We check them more than three times before we send out the goods!

Payment method?
We accept T/T Bank transfer.

Lead

time?
1-3 work days delivery time after confirmed Payment

Delivery
Logistic partners UPS, FedEx and DHL
International delivery available
Same day dispatch from group stock
Warranty
All parts are covered by MOORE 12 month warranty
Popular searches
K2E225-AA26-09Siemens Frequency converter 110kw 132KW Fan Fan 6SY7000-0AB66
Schneider Frequency converter ATV61/71 Drive plate Trigger board PN072183P3
Danfoss VLT5000 Frequency converter Power supply board Drive plate 130B6038 DT/08
Kone elevator V3F16L Inverter drive board /A2 board KM825950G01 825953H03
Parker DC governor Resistance capacitance absorption plate AH466704U001
European 590 DC governor Power Supply Drive plate AH466701U002
VACONVacon Frequency converter NXS Power supply board / Drive plate PC00716G 716I
Vacon Frequency converter 4.0CXS4G2I1 IP20 4.0KW/5.5KW
Parker Drive plate AH466706T021/3
DIRISE Drive plate D010-E-P01-A02
6SE70 Frequency converter Power Supply Trigger board 6SE7021-8TB84-1HF3 Drive plate
Schneider ATV71 series 110KW ATV71HC11N4
ABB Frequency converter ACS800-04P-0210-3+P901
Danfoss VLT5000 Frequency converter Power supply board Drive plate 130B6012 DT/05 AT/05
Schneider Frequency converter 380V 630KW ATV61HC63N4
Fuji Frequency converter Power supply board Drive plate EP-3959D-C
Zhiguang High voltage inverter Main control Power supply board HVFPWR33
AB Frequency converter 20F11RC8P7JA0NNNNN 4KW
Lipp High voltage inverter power unit Drive plate Trigger board LP-LO-22A-C(T3)
AB Frequency converter PF700 Trigger board 349896-A02 module 6MBI450U4-120-01
AB Rockwell Frequency converter PF753 20F11NC043JA0NNNNN 22KW/18.5KW
Siemens 6SE70 Drive plate 6SE7038-6EK84-1JC2
Vacon Drive plate 619C Frequency converter parts PC00219J 87A
ABB Frequency converter ACS510-01-088A-4 45kw
Siemens ROBICON High voltage inverter unit Control panel A1A10000432.02M
MM430 Series frequency converter 6SE6430-2UD33-7EB0 37KW
SHF-22K-A Frequency converter SHF-22K-A,22KW 380V
Emerson Frequency converter SP4402 74/83A
AB Frequency converter SCR trigger board PN-200960
Schneider Frequency converter ATV58HD33N4X 22KW
ABB Frequency converter Power supply board 1SFB536268D1008
AB Inverter drive board PN-184930
AB Frequency converter PF753 75KW IGBT Trigger board PN-164466 PN-164489
ABB ACS600 Frequency converter ACS60100703
ABB Frequency converter ACS800-01-0165-3+P901
Schneider ATV71LD18N42 Power Supply Drive plate 16253930112A04
Vacon Inverter fan board PC00299G 399I VACON Frequency converter NXS NXP Fan Control panel
AB Frequency converter 700 series AB700 Using the brake function board 316590-A01
---
Panasonic MSD011A1XX

Email: sales@mvme.cn (click)