MERLIN GERIN DPN N vigi/C6 Circuit Breaker
☞☞ Click here to get the best quote MERLIN GERIN DPN N vigi/C6
Manager: Jessica

Email: sales@mvme.cn (Click)

Skype: jessica01235483 (Click)

WhatsApp : +86-18030235311 (Click)
MOORE provides economical and efficient spare automatic control parts for industrial automation market to meet your operation

Budget. We provide a large stock of spare parts.

Improving the Availability of Process Automation Parts

We provide control systems to provide comprehensive control components for all your automation safety and process requirements.
Have the best order cycle support to achieve investment protection and maximum return on previous asset investments

Industrial Automation Control Systems and Components Provide Reliable Solutions for Your Business

If you can't find the products you need, please contact us. We will help you find the right self for your system Motorized parts.

The drive provided by MOORE can help you improve energy consumption while optimizing process control. Our products are available used in a variety of industries or applications
MOORE AUTOMATION LIMITED
https://www.mvme.cn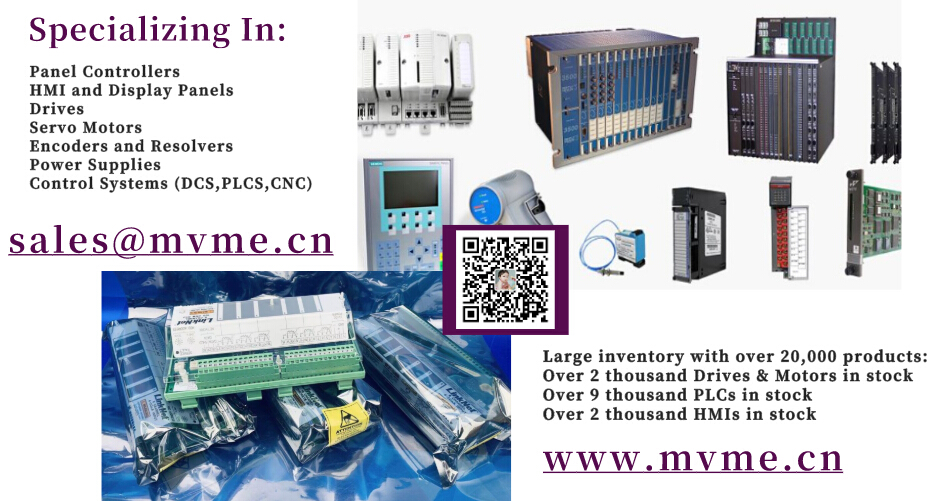 * Foreign direct purchase, genuine licensed products, price concessions, after sale warranty, complete models, superior inventory.
* if you need to order more than 1 products, please contact us. We can offer you a discount.
* If you have any other questions, please feel free to contact us.
* If you find the same parts from any other suppliers cheaper than us , we will try to match that the same price,or provide you with a further discount.
*Please let us know if you have any spare parts, spare parts, we can give you further assistance,we await your inquiry.
*** Email: sales@mvme.cn (Click) ***
Allen-Bradley (1746-IB32,1747-L533,1756-ENBT,1756-L61,1769-OF4,1771-IBN,1785-L40B )
Bently Nevada (3500/94,3500/53,3500/22M,3500/42M,330180-90-00 )
Honeywell (TK-PRS021,TC-FPDXX2,CC-TCNT01,8C-PAIH51,51309355-001,10006/2/1 )
ABB (07KT97 WT97,AI835,CI854AK01,DSQC639,DO810,PM861AK01,SNAT603 )
Triconex (3625,3503E,3008,TCM 4353,4351B, 4409)
ICS Triplex (T8310,T8431,T8461, T8451,T8110B,T8403,T3481)
PARKER PVM016R1K1J3NMS + PVM016R9L1T1NMS
SIEMENS 1FK6063-6AF71-1EA2
INDRAMAT MDD093B-N-020-N2M-110PA2
SIEMENS 6SN1118-0DM33-0AA2
SIEB & MEYER 21.60 SERVO FREQUENZUMRICHTER 21.60.50FY + 21.60.0001.A
DESONIC DSG 1500 DSG1500 DSG150913565
INDRAMAT MDD112C-N-020-N2L-130GA0
REXROTH MDD112C-N-020-N2L-130PAO
SIEMENS 1PH6137-4NZ00-Z
SIEMENS 1FK7105-5AF71-1GB0
LENZE SERVO DRIVE 9400 E94AMHE0244B34NNNN + E94AZPM0244N
SIEMENS 6ES7 317-6FF00-0AB0
SIEMENS 6AF6501-0BA
TECHNOMAGNETE ELEKTRO-PERMANENT-MAGNET-SPANNPLATTE TF 32689.00T
SIEMENS ISKAMATIC B AS91 6FQ2191-0A
SIEMENS 6ES5581-0EA11
DANFOSS/MANEUROP MTZ 56-HL4VF
REXROTH HMS01.1N-W0150-A-07-NNNN 911R297164
BBC 07NG00R1
REXROTH VARIABLE FLÜGELZELLENPUMPE 1PV2VA-17
HEWLETT PACKARD HP MODELL 743 + 3X A2636-66007 + A2636-66003
JST 154-130
REXROTH BOSCH INDRACONTROL V INDRALOGIC VE/VEP30.2 R911170303
SIEMENS 6SN1145-1BA01-0BA2
SIEMENS ELMO-G 2BH1610-1HF45
AFAG LE-60-600 TTL LE-60-600TTL 50307891-600
IMAJE 721
SEW EURODRIVE MDV60A0220-503-4-0T+MDV60A-0T+MDX60A0220-503-4-00
PEPPERL+FUCHS IDENT CONTROL IC-KP-B17-AIDA1
SIEMENS 1FK7101-5AF71-1EH5
REXROTH RADIALKOLBENPUMPE 1PF1RA-19/6.30-500RAO1MO1
SIEMENS 6SN1123-1AA00-0EA0(C)+ 6SN1118-0AA11-0AA1(B)+ 6SN1114-0AA01-0A
MIYACHI POWER SUPPLY FÜR LTSTATIONEN UNFC4/240 1-292-01-01
SCHMALENBERGER TAUCHPUMPE Z 40-16/2
SIEMENS 1FT5072-0AC01-2-Z
GOULD PERMANENT MAGNET DC SERVOMOTOR M206-C20K-9005
BRINKMANN TAUCHPUMPE SAL 404/720+001
INDRAMAT SERVOMOTOR MDD090B-N-020-N2L-110PA0
ALLWEILER SNF 120ER46E8.9-W1
SIEMENS 6SL3120-1TE24-5AA3
---
MERLIN GERIN DPN N vigi/C6

Email: sales@mvme.cn (click)