KEB X1.SM.001-4220 Servo Motor
☞☞ Click here to get the best quote KEB X1.SM.001-4220
Manager: Jessica

Email: sales@mvme.cn (Click)

Skype: jessica01235483 (Click)

WhatsApp : +86-18030235311 (Click)
MOORE has been providing an independent network of industrial automation distributors worldwide since 2001.

Since its establishment, MOORE has established a unique global purchasing relationship with global distributors, enabling us to lower than competitor's Cost Providing Spare Parts Solution

In order to make our customers'business more competitive. We provide a wide range of spare parts. This helps our customers.

Get higher return on investment and win more business!
We have over 2000,000 satisfied partners around the world, and we are constantly looking for new ways to partner accompanying brings value.

We not only sell products, but also provide a set of pre-sale and after-sale value-added services to enable our customers to maintain.
Low cost achieves the highest return on investment.
MOORE AUTOMATION LIMITED
https://www.mvme.cn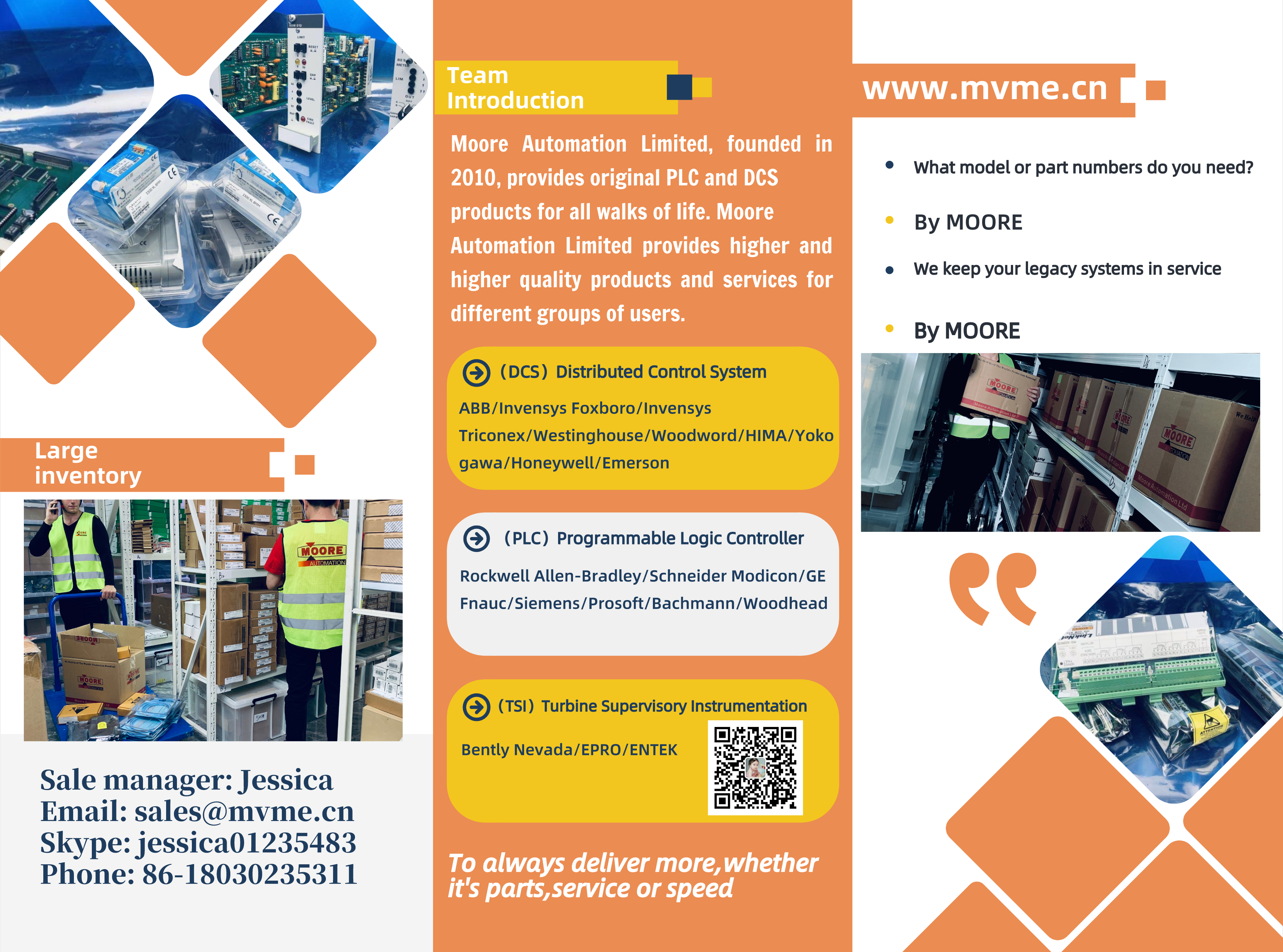 Shipping:
UPS,Fedex,DHL and other Express for choose.
If you have special requirements please contact us without any hesitation.
According your requirements,we can flexibly arrange it.
Customer Service
24 hours by email
Hotline/Urgent inquiry
Best price.
In stock.
New in original package.
Warranty 1 year.
*** Email: sales@mvme.cn (Click) ***
* Siemens automation and P
* Siemens s7-200/300/400 PLC I/O module
* Siemens ET200S/200M I/O Module
* Siemens Mircomaster 420/430/440 Fast speed Drive
* Siemens Simatic OP MP HMI TOUCH PANEL
* Siemens LOGO! 6ED
* Siemens STIOP POWER
* Simatic V7.0 SoftwareWINCC SETP7 STEP7 STEP5
* Siemens CNC 6SN1123 6SN1145 6SN1111 6FC5
SINUMERIK 810D,SINUMERIK 840D,SINUMERIK 840Di MASTERDRIVES MC,MASTERDRIVES VC
* Process automation.7SJ/7UT/7UM/7SD/7RW/6DD/6FC/6SN/1PH/1FK/1FT/6FX/6SY/6AU/6SL/C98043/6SE70 series
* Allen-Bradley 1756 PLC 1747 1746 PLC
* Allen-Bradley 1794 1769 1762 I/O Module
* Allen-Bradley 2711 2711P HMI
* Allen-Bradley 22A 22B 22C Drive
*Omron C200H/C500/CJ1W/CQM1/CS1W series PLC
BR-automation 8MSA3L.EO-31
Lenze MDSKABS100-22 00421314
SEW RF57 CMPZ80M/KY/AK0H/SMB
SICK MAIHAK 2033796 8515
AEG Thyro-A 3A500-100HRL1
Control Techniques KDD6,3/R/600V/96/0,63
Siemens EU21 6FQ2521-0A
Ferrocontrol FIPC 1.2-CT-426B-010-C2
Morin MRA-025U-K-S060
Fezer 063-138 319436
Parker MH1054508519S2165A74
Siemens 6SE3121-3DC40
Fanuc αiF 1/5000 A06B-0202-B605#S000
Fanuc αiF 4/4000 A06B-0223-B605#S000
Poclain KVH -6/2-6 - 3/8-YZ-S50-N1
Aertecnica Croci C2 633
SEW Eurodrive Movigear MGFAS2-DSM-DBC-B/EBW/PG
Wirtgen Group Kleemann 2321024
Leuze DDLS 200/120.2-60
Lenze MCA 10I40-RS0P2-Z0C0-STBS00N-R0SU
Nordmann SEM-68000 SEM68000
KSB ETABLOC G 65-160/154 2 G10
B&R 8MSA3XE031
SEW CMP63LKYES1HSM1
ABB XRM2-185-3P-MOT 1SEP102242R3302
Bürkert 1067 642292A
Lenze EVD473--E EVD473E 00387458
Siemens 1FT6105-8AF71-3EG1
SEW PSF222 CMP50L/BP/KTY/AS1H/SB
Lenze L-force E94APNE03641D
Hnchen 120-15000-01
Rexroth KSM01.2B-041C-42N-M1-HG0-SE-NN-D7-NN-FW
Siemens 6SE6420-2UD24-0BA0
Rexroth Bosch CKK-110-NNG1
SEW EURODRIVE SF57 DRS71M6
Siemens S7 6ES7400-2JA00-0AA0
Siemens 1FK7034-5AK71-1LG3
---
KEB X1.SM.001-4220

Email: sales@mvme.cn (click)