Huichuan MTF152KZ1 CPU Control Boards
☞☞ Click here to get the best quote Huichuan MTF152KZ1 CPU Control Boards
Manager: Jessica

Email: sales@mvme.cn (Click)

Skype: jessica01235483 (Click)

WhatsApp : +86-18030235311 (Click)
Every day in the 65 countries where we operate, we do everything in our power to be more than just an electrical material distributor. We strive to create and sustain a relationship in which each customer is our partner.
With the backing of our multi-channel distribution network and our powerful logistics, we are able to optimize the supply chain, offer competitive prices and bring innovative and tailored responses to the table. Because each customer and project has its own specific features, we adapt our solutions on a case-by-case basis, using our full array of differentiating services.

Integrated sourcing
To meet the special needs of a number of manufacturing customers, we deploy integrated solutions spanning supply, procurement and storage management. We can take the place of their logistics department or even their entire supply chain, guaranteeing that both quality and performance targets will be met, and reducing TCO (Total Cost of Ownership).

Tailored services
Our specialists assist construction and industry customers all over the world with their projects, often going above and beyond the mere supply of products and solutions.
MOORE AUTOMATION LIMITED
https://www.mvme.cn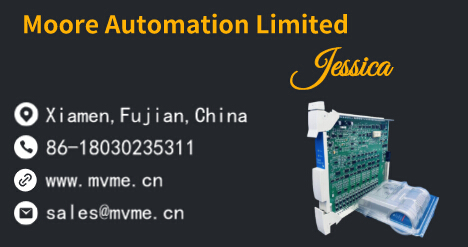 Payment:
We Accept T/T.
Other payment please send message.
Shipping:
Item within 1-2 days after the payment is cleared.
Item ship By E-packing/FedEx/EMS/TNT/DHL/UPS
All the packing ship with tracking number.
Returns:
30 days policy is accepted
When you return the Item ,please make sure the item is un-opened
Warranty:
One year warranty
*** Email: sales@mvme.cn (Click) ***
----(DCS)Distributed Control System
ABB/Invensys Foxboro/Invensys Triconex/Westinghouse/Woodword/HIMA/Yokogawa/Honeywell/Emerson
----(PLC)Programmable Logic Controller
Rockwell Allen-Bradley/Schneider Modicon/GE Fnauc/Siemens/Prosoft/Bachmann/Woodhead
----(TSI)
Bently Nevada/EPRO/ENTEK
SIEMENS SJD69200NT CIRCUIT BREAKER 200A (NO LUGS) *
SINTO CYAP-10B-300 NSNP
SINTO CYAP-20B-300 NSNP
SMARTSCAN 5K8PS-1204APL2 NSMP
SONOSYS MLM0698080/3MHZ/35W NSNP
SONOSYS MSB 038090 NSNP
SPIRAX SARCO 66160 125PSIG NSMP
SPIRAX SARCO APT10-4.5 NSNP
SQUARE D 8030-RIM123 SY/MAX
SQUARE D 8803-P00C04M DRIVE
SQUARE D 9070SK500A3D1 NSFS
SQUARE D PBLH36400GN SER. 5 400A 277-480V UNMP
SQUARE D PEF361600LS CIRCUIT BREAKER
SQUARE D SY/MAX 8030-RIM126 THERMOCOUPLE INPUT MODULE
STI MS46SR-30-1570-Q1-R-NO-FP-GM1 NSNP
STI OS31-2-PN-TY1 70188-1012 NSNP
STOBER ED704USOM140 (AS PICTURED) UNMP
SUMITOMO F2CS-A35-ZG09-59 NSMP
SUMITOMO F2CS-T25-ZG02-81 HW9380962-A REDUCER
SUMITOMO F2C-T25-ZG02-81 HW9380962-A REDUCER *
SUMITOMO HA-FF13BG2 ANFJ-M40A-SV-25 NSNP
SUNX SF2-EH48 NSMP
SUNX SF2-EH56 NSMP
TEIJIN SEIKI RV-70C-49.28 HW9380958 NSMP
TELEMECANIQUE ATV66V90N4 (AS PICTURED) UNMP
TET ELECTRONIC ARGOS160-6,5 UNMP
THINKLOGICAL VEL-U00M04-LCRX NSNP
THK HSR35LA NSNP
THK HSR35LA2QZZZ+360L LINEAR BEARING GUIDE
THREEBOND PCB-10 NSMP
TOPAZ PCBA14255-02-15 REV. A NSMP
TOSHIBA TOSVERT-130G3 UNMP
TOSHIBA VT130G3U4400 AC DRIVE
TOSHIBA VT130H7U4220B TRANSISTOR INVERTER *
TOTAL CONTROL HMI70100A2P SMART TOUCH OPERATOR PANEL *
TOTAL CONTROL QPI11100C2P W/ R-QPI-ABR-002 OPERATOR INTERFACE
TOTAL CONTROL QPI-2D100-L2P SER. A NSMP
TOTAL CONTROL QPI2D100L2P-F 0880001-01 OPERATOR INTERFACE
UNILUX 03-1161-36 NSNP
UNILUX LOL-20-3600D NSNP
URYU UECP-4800E NSMP
VAT 10844-CE44-ASG1/0071 A-685068
---
Huichuan MTF152KZ1 CPU Control Boards

Email:
s
ales@mvme.cn (click)