Ekato ESD 114L100 CXXX GLT Mechanical Seal Stainless Steel 3bar rpm200
☞☞ Click here to get the best quote Ekato ESD 114L100 CXXX GLT
Manager: Jessica

Email: sales@mvme.cn (Click)

Skype: jessica01235483 (Click)

WhatsApp : +86-18030235311 (Click)
Allen-Bradley (1746,1747,1756,1769,1794,2711P..)
Triconex Invensys (3008,3664,3805E.3704E,3700A 4351B...)
YOKOGAWA (CP345,CP451-10,AMM12C,AAI141-S00...)
ABB (07KT98 WT98,07KT97 WT97,DSQC679,IMASI23,IMDSO14...)
Ovation (1C31194G01,1C31197G01,5X00106G01,1C31125G02...)
Bently Nevada (3500/42M ,3500/22M,3500/95.3500/15...)
Hima (F3330,F3236,F6217,F7126,F8621A....)
FOXBORO (FCP270,FBM203,FBM204,FBM217,FMB231...)
GE (IC693,IC697,IC695,IS200,IS215,DS200...)
BACHMANN (MPC240,CM202,DI232,MPC240,NT255,AIO288...)
Moore Automation Limited is a professional service provider of industrial automation field of spare parts .
We main offer PLC module, DCS card pieces, ESD system card pieces, vibration monitoring system card pieces, turbine control system modules, gas generators spare parts.
Increment
MOORE is the market leader in the distribution of discontinued electrical materials in China. This position is the result of years of customer trust in us. This trust allows us to continue to grow and emphasizes that we provide more shutdown components.

Customer First
"Is it better for customers?" This is the question we ask ourselves every day in all departments of the company. Focusing on customers helps us to constantly adjust product classification and services to meet customers'needs as best as possible.

Sustainable partners
MOORE is committed to establishing sustainable cooperative relationship with customers and suppliers. This is a win-win situation. Sustainability also means responding to trends, evolution and innovation. This flexibility is also a guarantee for the future.
MOORE AUTOMATION LIMITED
https://www.mvme.cn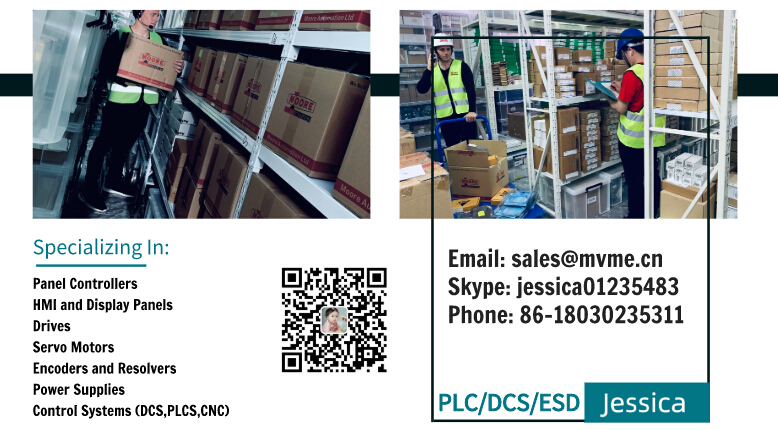 -Promptly reply you within 24 hours
-Fast delivery time
-100% quality assurance
-1 Year warranty
-Have been in the line for many years,has a good reputation
*** Email: sales@mvme.cn (Click) ***
Festo Magnetventil JMN2DH-5/2-D-02-S
Siemens 6ES7307-1EA01-0AA0
Mitsubishi SPS-E/A Modul Serie FX2N FX2N-16EYR-ES/UL
Mitsubishi SPS-E/A Modul Serie FX2N FX2N-16EX-ES/UL
Crydom Halbleiterrelais CMRD2435
Siemens S30807-K6192-X-3-ZSYS
Merlin Gerin Multi 9 SPD 12731
Festo Kompaktzylinder ADVU-40-25-P-A
Balluff Lichttaster BOS 26K-PA-1IE-S4-C
Siemens 6FX1121-4BA02
ABB 1SDA053690R1
Festo Drucksensor SDE1-V1-G2-HQ4-C-P1-M8
Omron Halbleiterrelais G3PA-210B
Mitsubishi N0-Fuse Breaker NF30-SW 5A LN327N131-1
Mitsubishi NV100-SW
Leuze Reflexions-Lichtschranke PRK 85/4
Siemens 6EP1437-2BA10
Siemens 6FX1151-1BD01
Siemens 6ES5300-5CA11
Siemens 6ES5511-5AA12
Beckhoff Profibus Buskoppler BK3120
IFM Karte VS 0200 SR 0120
Siemens 6ES5 465-4UA11
Siemens 3RK1301-0HB00-0AA2
TEM-EX-C10100EGAG
XN-16DI-24VDC-P
Siemens 6ES5491-0LB11
Festo Drucksensor SDE1-V1-G2-W18-L-P1-M12
Keyence Haupteinheit Messverstärker #6747308
Siemens 6FX1135-6BA01
Phoenix Interbus-S IB ST 24 DO 16/3
Siemens 6ES7132-1BH00-0XB0
G3PA-220B-VD
Siemens 6ES7322-1FF01-0AA0
Siemens 6EP1333-2BA01
ismet Transformatoren Typ: IST 48918
ismet Transformatoren Typ: IST 89/059013
Siemens 88430-A3635-L1
---
Ekato ESD 114L100 CXXX GLT

Email: sales@mvme.cn (click)