ELMO CEL-A10/100-C6 MOTION CONTROL
☞☞ Click here to get the best quote ELMO CEL-A10/100-C6 MOTION CONTROL

Manager: Jessica

Email: sales@mvme.cn (Click)

Skype: jessica01235483 (Click)

WhatsApp : +86-18030235311 (Click)
MOORE is committed to providing economic solutions for industrial parts and equipment. We can provide unparalleled value for quality products because we are a direct source. We strive to continuously improve the environment, and at the same time we are committed to supplying you with all the products at the supplier's price.

Why does it cost only a small part to choose a distributor who can quickly acquire the same parts? We have many years of collective and comprehensive knowledge and experience in industrial material management. This means that we can provide you with the greatest value and innovation for every spare part cost. We always ensure that your satisfaction is guaranteed.
Our Mission: Make it easier for customers to buy industrial components
Vision :Reliable Global Supplier of Industrial Spare parts
Purpose:MOORE's goal is to become the industry's "Standard"

MOORE AUTOMATION LIMITED
https://www.mvme.cn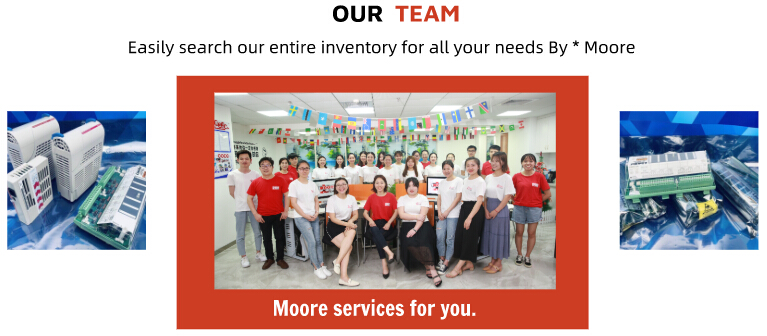 1) MOQ: 1 Piece
2) Availability: In Stock
3) Guaranty: 1 Year Warranty
4) Condition: Brand New and original
5) Shipping: 1-2 days
6) Shipment: TNT DHL FEDEX EMS UPS
*** Email: sales@mvme.cn (Click) ***
Distributed control system (DCS)
Programmable Logic Controller (PLC)
Remote input / output module (RTU)
Industrial PC (IPC)
Industrial low-frequency screen
Lowcapacity hard drives for industrial use SCSI (50,68,80Pin)
AnyBus (Gateway)
Human-machine interface
Industrial control related ancillary products
ABB HIEE405246R0001(0002) card
W2E143-AA09-25 Fan ABB Disassembly of DC governor
ABB SDCS-AMC-DC DCS600 DC governor program card, CPU board
ABB SDCD-CON-2B
ABB DCS400 DC governor Main Board SDCS-CON-3A
SDCS-PIN-3A ABB DCS400 DC governor power board
ABB DCS502-0680-51 DC governor
,
680A Reversible DC governor
SDCS-AMC-DC-2 ABB DCS600 Communication board
ABB DCS502-0680-51 DC governor 680a DC governor
SDCS-PIN-41A ABB DC governor pulse board (trigger board)
ABB DCS602(502)-0680-51 DC governor 680a DC governor
SDCS-FEX-2 ABB Excitation board
SDCS-PIN-205B
ABB NETA-01 Communication card, communication module
SDCS-PIN-F01a ABB DCS550 DC governor drive board, power board
NCAN-02C ABB Communication module
CN2B2 ABB DC governor cooling fan, voltage 115V/16W
ABB DCS800-S02-0520-05 DC governor
SDCS-PIN-48 COAT ABB DC governor pulse board
ABB DCS550 DC governor Main Board SDCS-CON-F01
NPBA-12 ABB Frequency converter DC speed governor disassembly communication module
3ADT316400R0501 ABB DCS550 Excitation module of DC governor SDCS-BAB-F01
3BHE003748R0002 ABB card
Panel connection crystal head ABB ACS550 ACS350 ACS510 Panel connection crystal head
SDCS-FEX-32B ABB DC governor DCF503B-0050 excitation Main Board
ABB DCS550 resistance
ABB SDCS-COM-81 DCS800 DC governor communication board
NPBA-12 ABB DP Communication module
SDCS-CON-2B DC31A281 TSU600 converter Main Board
ABB SDCS-PIN-3A,DCS400 DC governor drive board, trigger board
---
ELMO CEL-A10/100-C6 MOTION CONTROL

Email: sales@mvme.cn (click)