DEPCA 70-22837-01 10Mbps Ethernet Adapter
☞☞ Click here to get the best quote DEPCA 70-22837-01

Manager: Jessica

Email: sales@mvme.cn (Click)

Skype: jessica01235483 (Click)

WhatsApp : +86-18030235311 (Click)
MOORE has been working in the field of industrial automation components since 2009.
We mainly supply heavy industry all over the world with automation spare parts that are no longer available from manufacturers.
We have 992,000 units in stock including PLCs, Operator Panels, Servo Drives and Servo Motors, Excitation Boards. Other electrical equipment parts
We stock parts from over 320 different manufacturers

These include
Control Systems (DCS, PLC, CNC)
Panel Controllers
HMI and Display Panels
Drives
Servo Motors
Encoders and Resolvers
Power Supplies

Our clients range from the largest multinationals to small production companies.
If you need any parts please contact us to speak with one of our knowledgeable SALES representatives!
MOORE AUTOMATION LIMITED
https://www.mvme.cn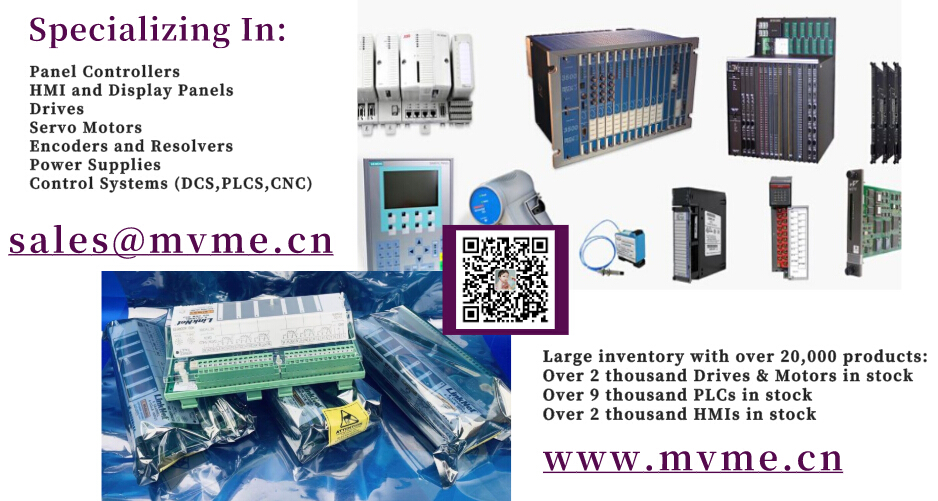 1) MOQ: 1 Piece
2) Availability: In Stock
3) Guaranty: 1 Year Warranty
4) Condition: Brand New and original
5) Shipping: 1-2 days
6) Shipment: TNT DHL FEDEX EMS UPS
*** Email: sales@mvme.cn (Click) ***
1.Allen-Bradley 1756/1769/1771/1785 Series
2.ABB 800xA/Bailey INFI90/DSQC Series
3.Bently Nevada 3500/3300 Monitoring System
4.Schneider Series Quantum 140 series
5.General Electric IC693/IC697/IC698/IS200/DS200 Series
6.SIEMENS MOORE/S5 Series
7.Westinghouse: OVATION/WDPF/MAX1000 system spare parts
8.Invensys Triconex: Triple Modular Redundancy (TMR) architecture.
9.Honeywell TDC2000/TDC3000/Experion HS Series
10.YOKOGAWA CS3000 System
OVP-10 ABB DCS400 DC governor board
Vickers EEA-PAM-553-A-32 Proportional valve drive plate
SDCS-PIN-205A
ABB DCF504B-0060 Reversible excitation module
ABB SDCS-FEX-31 Excitation module Main Board
SDCS-PIN-51 Measuring plate ABB Detection board
SDCS-POW-4 ABB DC governor power board
ABB Power supply board SDCS-POW-1/ 1C
Moxa EDS-205 Switch
ABB SDCS-FEX-31B 3ADT312400R1001 excitation Main Board
ABB DCF504B0060-000000X Excitation module
3ADT220120R1 FIS-3A ABB DCS400 Excitation module
3BSE004939R1012 ABB SDCS-PIN-48 Thyristor pulse board, trigger board, drive board
ABB DCS400 DC governor drive board SDCS-PIN-3B
SDCS-IOB-3-COAT. 3ADT220090R0020. ABB DC governor expansion module
Temperature probe (thermocouple) Z/B70 ABB DC governor temperature sensor
ABB HF3B. 600/1A Current transformer, original DC governor
EUPEC Thyristor module TT250N16K
DCS800 DC governor ABB SDCS-CON-4 Main Board
SDCS-PIN-48 ABB DC governor pulse board, trigger board
DCS800-S02-0075-05 ABB DCS800 Reversible 75A DC governor
SDCS-PIN-48 ABB DC governor trigger board, drive board
SDCS-CON-2B ABB DCD500/600 Main Board
3ADT751004P0003 ABB 75A DC governor current sensor
SDCS-AMC-DC-2 ABB DCS600 DC governor program card communication card
DCS800-S01-0125-05 ABB DCS800 DC governor
SDCS-FEX-425INT SDCS-FEX-4aCOAT ABB DCS800 DC governor excitation
DCS400-PAN-A(ACS400-PAN-A)ABB Governor panel
SDCS-PIN-41 ABB Removal of drive board and pulse board of DC governor
SDCS-FEX-4 COAT ABB DCS800 Excitation module of DC governor Main Board
SDCS-PIN-205B ABB DC governor pulse board, trigger board
DCF503A0050-00000 ABB Irreversible 50A excitation module
ABB Cable arrangement DCS800 DCS400 DCS500 DC governor wiring
VVZF70-16IO7 ABB Removing excitation module of DC governor
---
DEPCA 70-22837-01
Email:
s
ales@mvme.cn (click)