BOSCH SERVO CONTROLLER SE301
Manufacturer: BOSCH
Part Item : SE301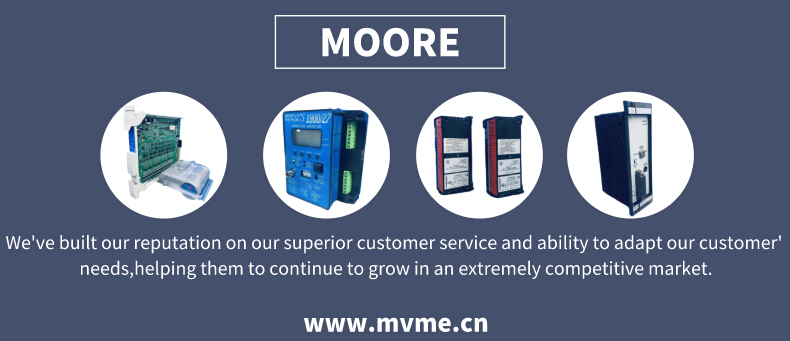 Manager: Jessica

Email: sales@mvme.cn (Click)

Skype: jessica01235483 (Click)

WhatsApp : +86-18030235311 (Click)
1.Allen-Bradley 1756/1769/1771/1785 Series
2.ABB 800xA/Bailey INFI90/DSQC Series
3.Bently Nevada 3500/3300 Monitoring System
4.Schneider Series Quantum 140 series
5.General Electric IC693/IC697/IC698/IS200/DS200 Series
6.SIEMENS MOORE/S5 Series
7.Westinghouse: OVATION/WDPF/MAX1000 system spare parts
8.Invensys Triconex: Redundant fault-tolerant control system, Most modern fault-tolerant controller based on Triple Modular Redundancy (TMR) architecture.
9.Honeywell TDC2000/TDC3000/Experion HS Series
10.YOKOGAWA CS3000 System
MOORE's large stock is the core of our supply.
Our large stock of industrial products is ready for delivery, which is the core of our supply. It contains more than 400,000 electronic products, such as PLC, HMI, drivers, servo and CNC devices, IPC and PG.
Whether new or out of production, from the smallest module to the complete configuration. We have products that have not been available for many years, the latest technology and all other products in between.
Market insight, technology development and customer demand enable us to buy strategically, so we seldom need to transfer business.
If items happen to be out of stock, we will search our preferred supplier network for you.

We have a wide range of brands and products for various industries, we provide services to tens of thousands of customers around the world.
This means that your production can start and run immediately. Reduce production stagnation or loss of capital gains.
MOORE AUTOMATION LIMITED
https://www.mvme.cn
> We offer high quality, fast delivery, competitive price for Digital I/O Modules.
> Please send your RFQ to get the latest price.
> Normally, we will ship the items in 3 days after receive the payment.
> We can ship to you by UPS/DHL//EMS/Fedex. Please contact us and we will use your preferred ways.
> We have a large stock and the prices are variable, so sometimes the prices we post are not accurate. If needed, please contact us for specific prices.
/// Email: sales@mvme.cn (Click)
ABB medium voltage Frequency converter ACS800 IGBT module AGDR-71C FS450R17KE3
Schneider Frequency converter ATV610 11KW 380V ATV610D11N4A
Delta Frequency converter VFD-F series 75KW VFD750F43A
Zhiguang High voltage inverter Main control board Communication board Interface board HVFSIG13B
ABB Frequency converter ACS880 Extended security features module FSO-11
Hekang High voltage inverter master control Power supply board B090604035 502.SY0004
Honeywell High voltage inverter unit Drive plate Power supply board Trigger board 2010000018
AB700 Frequency converter RS485/MODBUS Communication board /20-COMM-S 20-COMM-D
Inovance High voltage inverter touch screen monitor control panel IT5070E
Zhiguang High voltage inverter Main control board main board CPU plate HVFCPU34
Yaskawa Frequency converter CIMR-G5A4015 15KW-400V 616G5 Frequency converter
INVT High voltage inverter touch screen keyboard panel TPC1063E
Lenze Frequency converter EVF8203-E
Lenze Frequency converter EVF8217-E 7.5KW
Siemens Frequency converter /6SE6420-2UC17-5AA1/0.75KW/ single-phase 220V
ABB Soft start PST/PSTB main board Drive plate 1SFB536071G1001
Hekang High voltage inverter Signal board 502.SY0003.06、080907057
Xinshida High voltage inverter Control panel PROD0904FV3 AS.H31/A
Hekang High voltage inverter rectification plate (A03) 602-AD0001-01
ABB Frequency converter ACS880 Absolute value pulse encoder interface module OY FEN-11
Hekang High voltage inverter Master controller Optical fiber board 502.SY0102.01
ABB ACS510-01-195A-4 110KW
Zhiguang High voltage inverter Power unit Drive plate Control panel HVFDRV35B
AB Frequency converter PF700 series Trigger board Drive plate 193209-A03和193209-A08
Fuji G9 15kw Frequency converter FRN15G9S-4JE/4CE
G120 6SL3224-0BE23-0UA0 3.0kw
AB Frequency converter PF700 Power supply board 319433-A02
ABB Frequency converter ACS800-07 rectification module Control panel DSSB-01C DSSB-01
Danfoss Frequency converter VLT5000 Drive plate Power supply board 176F1116 175L3260 18107B
Reynolds Soft start JJR1000 JJR2000 Main control board Control panel CPU plate 160 132 115KW
ABB Frequency converter ACS800 Interface board Expansion board AGBB-01C 68242835 B 1/4
Danfoss FC-302P5K5T5E20H2XGCXXXSXXXXAXBKCXXXX
2945007302 Delta Frequency converter Drive plate main board VFD-F
Hekang High voltage inverter Main control board Power supply board Current configuration board 502.SY0001.03
Zhiguang High voltage inverter main controller Communication board Interface board Master controller HVFOUTP31
Siemens Frequency converter G120 Power supply board Capacitor filter board A5E00496050/A5E00496081
Fuji Frequency converter FRN160F1S-4C 160KW
OTS main board 13RU47349
AB Frequency converter PN-342279
---
BOSCH SE301

Email: sales@mvme.cn (click)