BENTLY NEVADA 3500/32M 149986-02 Control Module
☞☞ Click here to get the best quote BENTLY NEVADA 3500/32M 149986-02
MODEL

3500/32M

STANDBY MODEL

149986-02 184631-02

STOCK

Ask Request Quote

CONDITION

New and factory sealed

SHIP FROM:

Ship from China,Xiamen
Manager: Jessica

Email:
sales@mvme.cn
(Click)
Skype: jessica01235483 (Click)
Phone / WhatsApp : +86-18030235311 (Click)
1.Q: How about the warranty ?
A: MOORE provide 12 months warranty for all the goods from us , and you can refund the goods with any quality problem in 15 days.
2.Q: Other supplier have a better pice than yours.
A: "To create more benefit fir clients"is our belief, if you have a better price , please let MOORE know , we will try best to meet your price and support you.
3.Q: We have not cooperation before , how we can believe you ?
A: For our first order , you can pay after we prepare the goods.
MOORE has been working in the field of industrial automation components since 2009.
We mainly supply heavy industry all over the world with automation spare parts that are no longer available from manufacturers.
We have 992,000 units in stock including PLCs, Operator Panels, Servo Drives and Servo Motors, Excitation Boards. Other electrical equipment parts
We stock parts from over 320 different manufacturers

These include
Control Systems (DCS, PLC, CNC)
Panel Controllers
HMI and Display Panels
Drives
Servo Motors
Encoders and Resolvers
Power Supplies

Our clients range from the largest multinationals to small production companies.
If you need any parts please contact us to speak with one of our knowledgeable SALES representatives!
MOORE AUTOMATION LIMITED
https://www.mvme.cn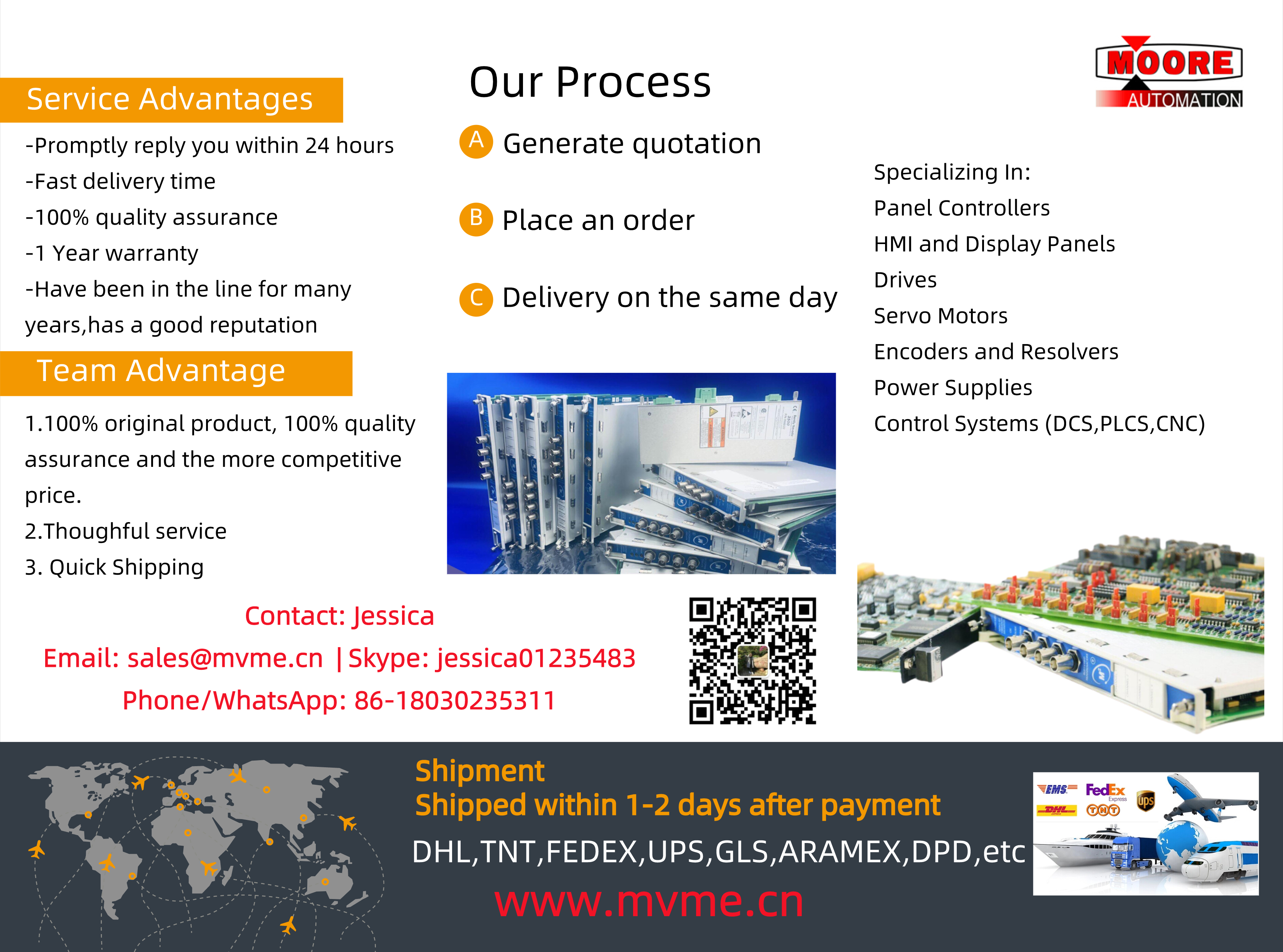 PLC Processor DCS Controller
HMI Panel I/O Module
Power Supply Module Proximitor
ControlLogix Chassis Robot DSQC
PLC Cable DCS Cable
Other PLC
** Email: sales@mvme.cn (click) **
| | |
| --- | --- |
| PROSOFT | MVI56-ADMNET |
| PROSOFT | MVI56-AFC |
| PROSOFT | MVI56-GEC |
| PROSOFT | MVI94-GSC-E |
| PROSOFT | PLX32-EIP-PND |
| PROSOFT | MVI94-ADM |
| PROSOFT | MVI56E-MNET |
| PROSOFT | MVI94-MCM-MHI |
| PROSOFT | PLX31-EIP-MBS |
| PROSOFT | MVI69-DFNT |
| PROSOFT | 3150-MCM 3250-L532M |
| PROSOFT | PLX31-MBTCP-MBS |
| PROSOFT | 3300-MBP |
| HIMA | F8620 |
| HIMA | F2DO16 01 F2DO1601 |
| HIMA | F6205 |
| HIMA | F8650 |
| HIMA | H7506 |
| HIMA | Z7116 |
| HIMA | Z7126 |
| HIMA | Z7127 |
| HIMA | Z7138 |
| HIMA | Z7128 |
| HIMA | CPU01 CPU 01 HIMATRIX F60 |
| HIMA | F7130 |
| FOXBORO | CP40B |
| FOXBORO | FBI10E P0972AJ |
| FOXBORO | FBM203 P0914SV |
| FOXBORO | FBM206 P0916CQ |
| FOXBORO | FBM207C P0917GY |
| FOXBORO | FBM211 P0914TN |
| FOXBORO | FBM214 P0914XQ |
| FOXBORO | FBM215 P0917TQ |
| FOXBORO | FBM216B P0927AJ |
| FOXBORO | FBM231 |
| FOXBORO | FBM242 |
| FOXBORO | FCM10E PO914YM |
| FOXBORO | P0903CW |
---
BENTLY NEVADA 3500/32M 149986-02
Email:
s
ales@mvme.cn (click)